I've decided to redo my LJ and it's not working out very well. Apparently, I can't just paste in new links to the header and the background.

Here's the new header image: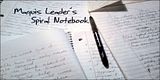 Page Title - Maquis Leader's Spiral Notebook
Where would you like the entries? - center
Border - none
Link Colors - default is ok
Cursor- normal
Background Link -

The sizing may not work for tiling down the page. If not, here's the original image:



Background color - white
Background color for journal entries - white
Font, font color, and font size - black arial 12pt
Screen resoloution -- my old background image was 1500px wide if that helps


Any help is appreciated!